Term 4 Week 10
Acting Principal - Anne Forwell
Classes, Staff Appointments for 2022 and Farewell
It is hard to believe it is almost the end of another school year. In looking forward to 2022 I would like to announce the following staffing positions at St Joseph's.
We welcome Michelle Vidler as one of our Stage 2 teachers. Michelle joins us with many years of teaching experience. We will also welcome back Rebekah Kelly from Term 1 for 2 days per week and Larissa Deleiuen in Term 3 for 2 days per week. New to the team in 2022 are release teachers Sophie Donohoe and Brooke Donoghue. We also welcome Nerilly Thomas as a teacher assistant. As previously announced we will be led by our new Acting Principal Danny Rankin.
At the end of this year we farewell some of our teaching staff. We wish Hannah Gorman, Mandy Hughes and Carole Reinhard all the best for their future and thank them for their contribution to St Joseph's.
Staffing 2022
Kindergarten -Emma Davis
Stage 1 - Carly Cormick & Donna Bancroft
Stage 2 - Michelle Vidler & Katherine Davies
Stage 3 - Nicole Burrows, Rebekah Kelly (Mon, Tue) & Anna Smidt (Wed, Thur, Fri)
Release teachers - Sophie Donohoe & Brooke Donoghue
Teacher - Larissa Deleiuen (2 days per week from Term 3)
Teacher Assistants - Liz Hegedus, Sharron Nay, Maree Hickson, Diana Westgate, Nerilly Thomas
Office - Cheryl Mawhirt
Nicole Burrows Leader of curriculum
Emma Davis Leader of school sport
Joe Stewart - Additional needs teacher, EMU (mathematics) teacher, leader of school evangelisation, leader of school catechesis
Anne Forwell - Assistant Principal, Leader of pedagogy, release teacher
Acting Principal - Danny Rankin
What an exciting team! This week all students have had time in their 2022 classroom and with their teachers as part of transitioning to 2022.
Last Day of School and Beginning of 2022
Wednesday 15 December 2021 - Last day of school for all students.
Thursday 3 February 2022 - The first day of school for all students in Years 1, 2, 3, 4, 5 and 6.
Monday 7 February 2022 - The first day of school for Kindergarten.
Prior to the above commencement dates in 2022, your child will come to school for their individual assessments. During this time, your child will work with their teacher in a one-to-one setting for approximately 30 minutes. Parents/caregivers remain at school during this time. A note has been sent home with your child indicating your child's individual assessment time. It is important that you do not miss the appointment. If you have any questions, please don't hesitate to make contact.
Year 6 Graduation
Last Thursday our Year 6 students had their Graduation evening. This special night marked the end of Primary School and also was a reminder that new beginnings are just around the corner. I would like to thank Mrs Mandy Hughes who carefully prepared a wonderful night for the Year 6 students. It was also wonderful to be able to see so many families come together after the uncertain year we have had.
Awards Ceremony
On Tuesday our awards ceremony recognised the students who have excelled in 2021. As our School Captains, Jason and Isabelle said to the students on the day;
"To today's award winners we say this: Congratulations and may you continue to work hard to ensure further success. It is important to remember that success is not guaranteed as effort is important if we want to continue to achieve. To those students that did not receive an award today we say this: Your school is very proud of you. Your gifts are very much recognised if not rewarded on a day like today. The most wonderful aspect of this school is that everybody is welcome to receive the greatest gift of all – the gift of God's love and forgiveness. It is in our friendship with Jesus that we realise we are all winners".
Thank you to Jason and Isabelle who have been wonderful School Captains in 2021.
Thank you
As 2022 is coming to a close I would like to thank all of our wonderful students, families and staff for their support. Particularly in Term 4 while I have been in the role of Acting Principal. It has also been very rewarding to lead such a beautiful community. It would be amiss of me not to thank Mr Joe Stewart who in his role as Acting Assistant Principal has been a terrific support to not only myself, but most importantly all the students in our school. Thanks Joe.
For those families of Year 6 students who are leaving us at the end of the year we thank you for the many years of support and partnership. As you move on please know that you will be missed and we will cherish your time here with us.
I wish you all a lovely Christmas and restful holiday.
God's blessings on you and your family
Anne Forwell
Acting Principal
Published on: 25 Nov 2021
Acting Assistant Principal & Leader of Catechesis-Joe Stewart
St Vincent de Paul Christmas Appeal and Salvation Army Toy Run
What a wonderful responsive and caring community we have here at St Joseph's. Your generosity and support to help with these causes is amazing. Seeing the children bring in their items for donation with a big smile on their face shows how they already value the gift of giving. Thank you to all our families and the children for your generosity. It will certainly make a big difference for many families in our community.
Transition Classes and Thank you for the Year
Today, all children attended their new rooms for 2022 and where possible, worked with their teachers for next year. It was so exciting seeing the children engage in activities and also set plans for their rooms and lessons next year. I truly thank all the teachers and staff for the wonderful work that they have done this year especially in rising up to meet the challenges that covid 19 has thrown at us. It has been a remarkable year and we are certainly blessed to have such a dedicated team.
On behalf of the staff, parents and children at St Joseph's, I wish to thank Mrs Anne Forwell for her commitment and for her thorough organisation and planning which ensured a most successful end to our school year. We truly appreciate all the extras and the support you have given us. Thank you.
To our families, I would like to wish you all a peaceful and Holy Christmas holiday. May you all have the opportunity to spend Christmas with loved ones wherever they are. Stay safe and well and enjoy the extra time with your children. They have worked hard this term and deserve the break. We can't wait to see all your smiling faces again next year.
Published on: 25 Nov 2021
Leader of Evangelisation - Donna Bancroft
Advent
What is Advent?
Advent Season is a very special time of year that sometimes gets lost in the bright lights of the Christmas season it precedes. The first day of Advent is the first day of a new Liturgical or Church calendar and begins a four week period of preparation in anticipation of the nativity of Jesus at Christmas. Advent is the waiting period. The word 'advent' means 'coming'. Purple is the colour of Advent as we wait to celebrate the birth of Jesus on Christmas Day.
What is the key message of Advent?
The Advent Season is all about reflecting on how we can prepare our hearts and homes for Christ's birth in the world as it is today. It is a time for faith communities and families to remember, through prayer, reflections, special music, and good deeds what the true meaning of Jesus' birth is.
What are the 4 themes of Advent?
The four traditional advent themes for the four advent Sundays are:
God's people -The Candle of Hope. Hope is like a light shining in a dark place. ...

The old testament prophets - The Candle of Peace. ...

John the Baptist - The Candle of Love. ...

Mary the mother of Jesus - The Candle of Joy.
Exuro- Year 5 Student Discipleship Retreat Day
During week 8, the students in Year 5 explored the theme of Discipleship: What it is to be a disciple, having a relationship with Jesus and what it means to be a faith leader. Exuro is a Diocesan Student Discipleship Retreat Day. Exuro is Latin for 'on fire'.
Students were encouraged not to be afraid to share their gifts and talents and to be themselves as God created. They were reminded of the words from Pope Francis: "Today's world stands in great need of witnesses, not so much of teachers but rather of witnesses. It's not so much about speaking, but rather speaking with our whole lives" and how their friends, family and community need them to be the best people they can be and to follow Jesus' example of love.
The day began with setting the scene with friends, participating in reflective discussions, prayer and group games. There were a set of activities focused on different aspects of friendship and, at the end of the day, a prayer service to conclude the day together and to go out and set the world on fire, with kindness, leadership, friendliness and love.
Do not let anyone look down on you because you are young, but be an example for the believers in your speech, in your conduct, in your love, in your faith and in your purity.
– 1 Timothy 4:12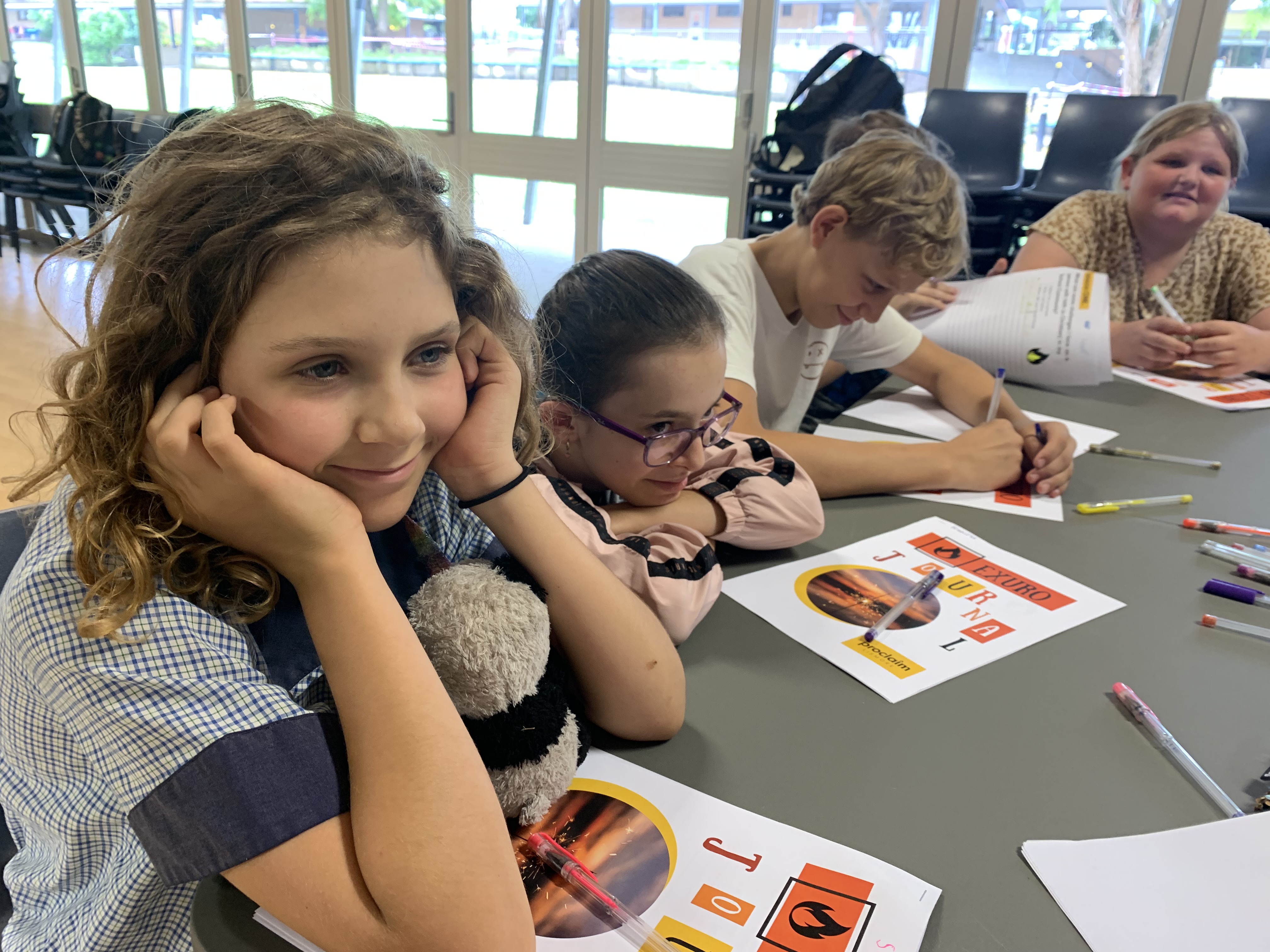 Christ has no body but yours, No hands, no feet on earth but yours,
Yours are the eyes with which he looks compassion on this world,
Yours are the feet with which he walks to do good,
Yours are the hands, with which he blesses all the world.
Yours are the hands, yours are the feet, yours are the eyes, you are his body.
Christ has no body now on earth but yours.
- St Teresa of Avila
Published on: 25 Nov 2021
K-2 Instructional Leader - Carole Reinhard
It was so lovely to finally see parents able to attend the school's award ceremony which is the culmination of the years learning. I would like to thank all the teachers who have worked tirelessly to ensure students are continually making progress in their learning. It is very important for families to continue to encourage students to read in the holidays so that there is no regression in their learning.
Kindergarten and Stage One have been continuing to work on writing a persuasive text in class. They may even be able to convince their teachers that they deserve a special day on the last day of the school. Learning continues to be the focus with teachers continuing to monitor student growth in reading and phonics skills.
Walker Learning Investigations are continuing with students now able to do some Christmas investigations as well.
Published on: 25 Nov 2021
Gumbaynggirr Language - Liz Hegedus
Giinagay Ngujawiny -Hello You Mob,
What a wonderful year I have had teaching Indigenous classes. It has been an absolute pleasure sharing my knowledge of Indigenous Culture, knowing how much both the students and teachers enjoyed learning about the oldest Indigenous Culture in the world.
Wishing everyone a Merry Christmas and a safe and Happy New Year.
Darrundang Ngiinda -Thankyou
Miss Liz Hegedus
IEW Indigenous Educational Worker
Published on: 25 Nov 2021
School Notes
School Banking update from Commonwealth Bank
For 90 years, our School Banking program has helped children learn about money, reinforced the importance of regular savings and provided structure for parents to support their children to save.
Though the program continues to have strong support from schools, parents and teachers, recent decisions by some state and territory governments because of a review by the corporate regulator mean we are unable to continue providing programs in schools, and we have had to make a difficult decision to close our School Banking program for all government and non-government schools across the country.
Our School Banking program was established in 1931 at a time when having a bank account was not commonplace, and since then we have helped more than 15 million Australians take their first financial steps. This would not have been possible without the wonderful support we have received from schools like yours, including all the parents and volunteers, and for this we are deeply grateful. Thank you.
Even though this is a sad time, School Banking has taught so many young Australians, past and present, the value of money and we believe this should be celebrated. We have created a place for you to share your stories, fondest memories and lessons learnt through the program. To share your story and access our financial education resources, please visit commbank.com.au/schoolbanking
Even though the CommBank School Banking program will not be returning to your school after this year, you can continue to make deposits into your child's Youthsaver account through online transfers or at any CommBank branch. If you need further information please phone 132 221 or visit your local CommBank branch.
MUSIC TUITION
Maree Hickson tutors in guitar, piano, voice and drama. If your child would like tuition please call Maree on 0421656019 or email maree.hickson@hotmail.com
Published on: 25 Nov 2021
School Events & Dates
TERM 4
WEEK 11
Wednesday 15 December - Last Day of Term 4 for students
Thursday 16 December - Staff Development Day (Pupil Free)
TERM 1 2022
WEEK 1
Tuesday 1 February to Friday 4 February - Kindergarten Best Start Assessments
Tuesday 1 February & Wednesday 2 February - MAI Assessments for students Years 1-6
Thursday 3 February - First day for students Years 1 - 6
WEEK 2
Monday 7 February - First day for Kindergarten students
Published on: 25 Nov 2021
Merit Awards
Congratulations to the following students who received a Merit Award.
WEEK 9
Stage 1
Alexander Hylton-Cummins for his outstanding improvement in reading and sight word levels.
Pippa Bennett for her outstanding improvement in reading and sight word levels.
Elsie-Maree Harris for her outstanding improvement in reading and sight word levels.
Baden Ballard for his outstanding improvement in reading and sight word levels.
Joy Tough for her outstanding improvement in reading and sight word levels.
Ethan Smith for his outstanding improvement in reading and sight word list.
WEEK 10
Marley Thrupp for using a range of strategies to sound out unknown words during guided reading.
Xavier Alford for his wonderful determination and thoughtful planning during investigations.
David Van der Vlist for his Mathematical explanation on 'quarter turns.'
Vashti Bowman for her improved efforts in following along with the sounds each morning.
Ned Scully for always starting his tasks promptly and setting a great example for his peers.
Eli Woods for his fantastic efforts in writing which pet would make the perfect class pet.
Published on: 25 Nov 2021
Uniform Shop
The uniform shop is located in the BrewHouse Village.
Opening hours:
Monday - Thursday 10.00am to 4.30pm
Friday by appointment only
Email: fytexptyltd@bigpond.com Ph: 0439434410
Wishing all our families a safe
and holy Christmas.
We look forward to seeing you all in 2022.
Published on: 25 Nov 2021